Greetings! Welcome to the "Walking Bread" Winter Walk team page. If you join or donate to this team you are in for a treat, LITERALLY!

You may have noticed that this team's name is especially punny. The way to some people's heart is through their stomach, a similar route can be taken to get to their wallet as well! Anyone who joins this team or donates any amount, will receive their very own loaf of banana bread - made with care, compassion and chocolate chips or walnuts if you would like. Your support to Sarah's Circle will be thanked with a caloric touch! We will be carbo-loading before the walk on February 18th, to help us stay warm and energetic for the to mile-long trek through the Uptown Neighborhood!

Also, our team's mascot is a Bernese Mountain Dog. We are actively seeking candidates of any actual Bernese Mountain Dogs to accompany us on this walk. The team captain will donate $100 if our mascot is able to join us for the Walk!!
$890.00
$520.00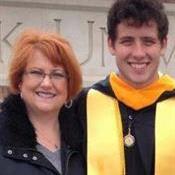 $225.00
$145.00